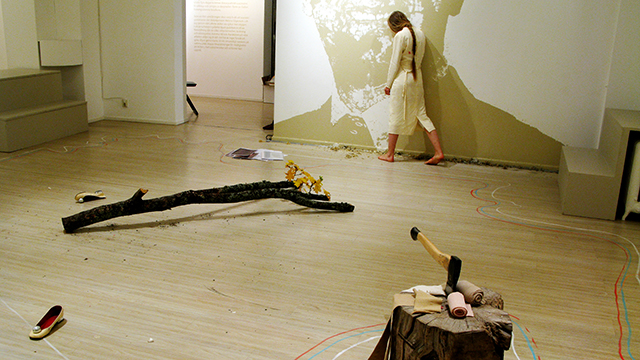 INSTALLATIONS & PERFORMANCES
↑ Up against the wall. Stillhetsarbete av Helena Kågemark 2009. © Nils Ramhøj
YANGO BIENNALE
NOVEMBER 21 TO DECEMBER 19 – 2014
OÙ ALLER?
Ces visages d'un homme et d'une femme congolais représentés de façon
aussi colossale sont une invitation à orienter notre attention vers
l'individu, pour célébrer les jeunes qui représentent notre avenir –
et pas seulement l'avenir au Congo. Ces toiles sont un signe de
reconnaissance envers la fragilité humaine, si imprégnée d'avidité
et du cynisme de l'économie de marché mondiale.
GOING WHERE?
With the monumental faces of a Congolese man and woman, my aim is to
turn the attention towards the individual and celebrate young people
who represent the future – not only in Congo. This artwork is an
acknowledgement of human vulnerability, penetrated as it is by greed
and a cynical global market economy.
Going where? / Où aller? Version III.
This version is originally based on a portrait of Edo Bumba, a musician from Congo living in Sweden. 
I had just completed the two monumental versions of "Going where?" when I started to work with this new piece at the end of my stay in Kinshasa. The idea for the grid over the face came from the grid in "Going where? I and II". 
As I was finishing my contribution to the Yango Biennale at the monument of "Échangeur de Limite", one of the biennale sites, I realized that this new painting was intimately related with the unique site and its very special history. For example, the grid in the painting has a connection with the grid of bars from a hole in the floor inside the gallery. 
This bars cover an opening in the ceiling of the lower parts of the Échangeur de Limite, cellars that operated as a prison until recently. So, if the grid which partly penetrates the faces of the young Congolese looks like the rationally drawn borders between the countries of the African continent, the grid in front of the face in "Going where? Version III" seem to be putting the person in the painting into prison!
Cette version s'inspire au départ d'un portrait d'Edo Bumba, un musicien du Congo qui vit en Suède. 
Je venais de finir les versions géantes d'« Où aller ? » quand j'ai commencé mon travail sur cette nouvelle toile, vers la fin de mon séjour à Kinshasa. L'idée du grillage au-dessus du visage est venue du grillage d'« Où aller ? I et II. » Alors que je terminais ma contribution à la Biennale de Yango au monument de « L'Échangeur de limite », l'un des sites de la biennale, je me suis rendu compte que la nouvelle toile était intimement liée à ce site unique et à son histoire très particulière. Par exemple, le grillage de la toile vient des barreaux d'un trou qui se trouve dans le sol de la galerie.
Les barreaux recouvrent une ouverture dans le plafond des étages inférieurs de l'Échangeur de Limite, des caves qui ont été utilisées en tant que prison jusqu'à récemment. Par conséquent, si les croisillons qui recouvrent une partie des visages des jeunes Congolais ressemblent aux limites tracées rationnellement entre les pays du continent africain, ceux qui sont superposés devant le visage d'« Aller où Version III » semble de fait mettre le personnage de la toile en prison…
Sculpture in Pilane – samtida skulptur i ett forntida landskap.
I en sänka – ett rum bland bergen lät jag de avverkade björkarna komma tillbaka till samma plats i bergen där de växte, men nu som stympade stammar svävande över marken. Det väcker frågor kring exil och tillhörighet. Drygt 100.000 personer besökte Pilane under de två år installationen visades.
2010: Tony Cragg • Laura Ford • Jonas Holmquist • Jitish Kallat • Leo Pettersson • Nils Ramhøj • Ursula von Rydingsvard • Steinunn Thorarinsdottir
2011: Tony Cragg • Keith Edmier • Lori Hersberger • Kent Karlsson • Klara Kristalova • Eric Langert • Leo Pettersson • Nils Ramhøj • Eva Rothschild • Erwin Wurm

Reconstruction – Betula Nostalgia
Working in Pilane, in the Bohuslän mountains, I returned felled birch trees to the site where they had been growing, enabling a form of regeneration. But can nature be reconstructed without losing its natural state? From this standpoint, I raise questions about exile and returning, about our longing for identity, for ourselves – the emotion known as nostalgia or more simply put, homesickness. Something has stirred in the Pilane hills. A gap has emerged, revealing an amputation of sorts, endured by the returning trees. Place has changed. Is it possible to take root again?
"Vilken natur är egentligen naturlig? Det vi menar med skog är vanligtvis planterad och kanske inte mer än 100 år. När jag kom till Pilane hade en massa björkar just huggits ner för att återställa naturen som den en gång såg ut. Plötsligt hade det blivit en plats av skogen och jag fick en stark lust att iscensätta någonting. Jag ville ställa frågor om vår föreställning om naturen och fick idén om att se på träd som indianerna gör, som levande väsen. Dessa björkar fick lov att lämna platsen. De fick inte finnas. Vad får finnas? Människor som flyttar in till ett område kanske inte ursprungligen hör hemma där men gör efterhand platsen till sin. Vem kan då komma och säga att de ändå inte hör hemma? Att de inte får rota sig.
Mina björkar svävar ovanför marken. Man ser konstruktionen, de fyra järnbeslag som håller varje stam uppe. Som kryckor. Eller som en kroppsdel man med hjälp av vävnadsvänligt titan försöker få att växa fast igen. Träden är amputerade, grenarna är borta. Nu ska de hitta rötterna igen. Lite så tänkte jag. Avståndet till marken var viktigt, att det finns ett glapp där. Om det tog tid? Skulptören Pecka Söderberg och jag jobbade elva timmar om dagen i tre veckor.
Pilane är en plats med stark historisk laddning som får nytt liv av att bli aktiverad igen. En nutida kultplats". Ur katalogtext av Marit Larsdotter.
Up against the wall – del 1 och del 2 – Tabula Rasa. Galleri Konstepidemin del 1, 2009 samt del 2, 2010. Ett satellitprojekt till Göteborgs Internationella Konstbiennal 2009. Installation och iscensättningar i samarbete med scenartisten Helena Kågemark bestående av en serie väggfasta monumentala porträtt av 7 multinationella och kontroversiella företagsledare målade direkt på galleriets väggar. Genom ett antal performance/föreställningar transformerades utställningsrummet och väggmålningarna ett flertal gånger inför publik.Foto © Nils Ramhøj om inget annat anges.
"Dag för dag ser vi något alldeles nytt växa fram. Varje besökare snabbporträtteras direkt på en vägg i lager på lager. Övriga väggar fylls efterhand av två meter höga porträtt av ett urval av världens mäktigaste finansmän – men utan ironi, utan kommentar. Just därför känner vi vår omöjlighet att påverka.
Helena Kågemark är levande installation mot en av väggarna, helt stum och stilla. På en annan vägg får hon dock röst och liv i en video. I kvällsföreställningen blir hon desto mer närgången, splittrad och levande jämsides med (dock lika stilla och stum) action painting på väggar, golv och kropp, kulminerande när hon försvinner in i väggen i ett plastskikt som i en elastisk bur. Under den vita väggytan avslöjas samtidigt en bild av skådespelaren själv. På fjärde dagen målas hela utställningen över med liknande latexskikt för att kanske tas fram på nytt i en oviss framtid.
Där biennalens videor talar ohöljt om våld och övergrepp, finner vi här en lika drabbande men mer konstnärligt fördjupande bild av vår hjälplöshet och vånda. Ensamma föds vi och ensamma måste vi vara även i vår protest. Konst är nåt annat än enbart samhällsengagemang". Ur Rolf Haglunds text i Borås Tidning oktober 2009.
Monumentalmåleri utomhus inför publik, Kleppesommeren, Gammel-Kleppe, Vågå, Norge. July 23- 31, 2005. Fotograf Anders Girås dokumenterade processen i time-lapse filmen Gammel-Kleppe 10'30.